Glued laminated timber house
Construction of houses made of glued laminated timber in Kasan is one of the main work-streams of the Siberian Forest company. We build houses from glued laminated timber of coniferous species: Angara pine, larch and cedar. Houses have excellent characteristics: they are warm in winter and cool in summer, a healthy microclimate is maintained.
If you are planning to build a house, take a look at this material. Houses made of glued laminated timber as good as buildings made of brick and concrete, and in some ways even better than them.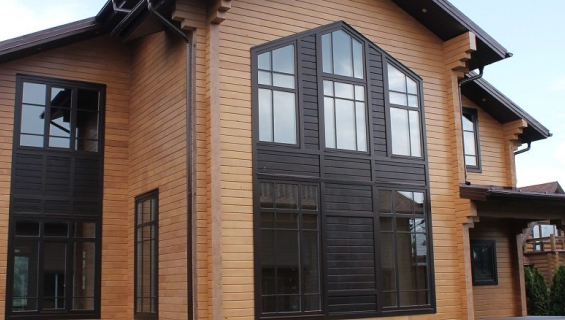 Advantages of glued laminated timber:
It is possible to build in any season

Manufacturing technology of glued laminated timber includes treatment with fire retardants and compounds against biological damage (fungus, pests). This protects the wood and prolongs the house lifespan.

The house resembles a constructor: all parts are precisely fitted. It has the correct geometry and high thermal insulation characteristics.

The walls made of glued laminated timber are even and flat. It allows you to experiment with interior decoration.

No expensive foundation is needed, a strip foundation is enough: this makes it possible to reduce construction time and costs.

Glued laminated timber is a stable material. It preserves the advantages of wood and gets rid of its disadvantages: shrinkage, cracking and twisting.
Materials for the construction of houses from
glued laminated timber
Angara pine, selected cedar and larch. Timber cross-sections h185х160, h185х200, h185х240, h185х260, h200х185, h200х165, h230х160, h230х200, h230х240, h240х240, h240х185
Цена на дома из клееного бруса
Стандарт
от

55 000

руб. за м2
В стоимость входит:
Фундамент
монолитная плита с закладными трубами под коммуникации
Наружные и внутренние стены
клеёный брус 200х185
Стропильная система
Обрезная доска 50х200
Утепленная кровля
Металлочерепица (утепление 200мм)
Водоотлив, софиты
+
Наружная покраска
+
Окна
+
Цена за квадратный метр дает возможность сделать примерный расчет стоимости дома (без коммуникаций).
Премиум
от

65 000

руб. за м2
В стоимость входит:
Фундамент
монолитная плита с закладными трубами
Наружные и внутренние стены
Клееный брус 200x185
Стропильная система
Обрезная доска 50х200
Утепленная кровля
Утеплённая мягкая кровля ( утепление 200мм)
Водоотлив, софиты
+
Наружная покраска
+
Окна
+
Цена за квадратный метр дает возможность сделать примерный расчет стоимости дома (без коммуникаций).
The production of glued laminated timber is carried out using high-precision automated equipment. It makes it possible to create gorgeous and complex structural elements, e.g. "Tyrolean lock" or "Dovetail", which provides almost unlimited opportunities for designers and architects when developing wooden house projects.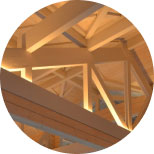 Timber roof trusses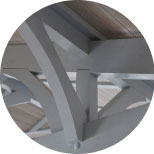 Radius strut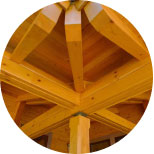 Roof beams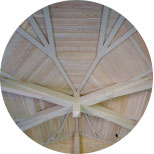 Octagonal dome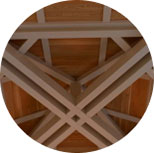 Dome ceiling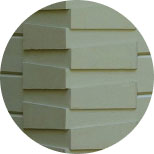 Tyrolean lock
Our houses made of glued laminated timber
Dreaming of your own wooden house? Call us to get a cost calculation for the selected project.
What People Say About Us
We really wanted a wooden house made of glued laminated timber. The Siberian Forest company offered a very interesting price. The timber quality impressed us. We chose a pine log with a 200mm cross-section. In a short time, the project was approved and construction began. After 1.5 months, the assembly of the house began.

Vyacheslav
We were very pleased with the Siberian Forest company's performance. Each working stage was performed at a professional level, they paid attention to every single detail both to construction and our wishes. I consider it an important aspect that the initial estimate did not increase during the construction process.

Arina
I've been acquainted with these guys and the head of the company for a really long time. They are really professionals in their field. This is not the first time we've been working together. At first, I ordered a house for my parents in the Moscow region, now my family decided to move out of town to a large house made of Siberian cedar. In a word, it is a responsible and experienced team. Highly recommend!

Vladimir